If you would like to learn skills while helping us to build interest in our Digital Community Hubs,  then reach out.
If you have limited skills or a good range of skills relevant to our project (see volunteering video for more) – or if you are just interested – let us know.  
HAVE A MUTUAL OBLIGATION COMMITTMENT ?
Under the Federal Government Support Initiatives, many of us are required to volunteer with an approved charity or not-for-profit organisation (NFP).
Volunteering can look like many things.
For solo parents this obligation can present real challenges with childcare demands and home absences.  There are very real opportunities to volunteer with NFPs who can be flexible and the work / volunteer commitment can provide experiences and skills that are of interest and in the longer term build solid career groundwork.
 If you are looking to volunteer in our NFP community project under 'Mutual Obligation', "welcome" – make a start by registering with more information about your interest in our project and quick summary of your current skills. 
Much of our volunteer work can be home-based in virtual teams rather than workplace environments.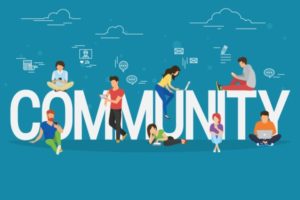 LOOKING FOR WORK IN COMMUNITY MARKETING ?
If you are interested in a career pathway in Community Marketing please contact our office for further information.  
We can provide startup support and connect you with our Flex-e Work Platform. This opportunity is open to self-employed people or people wanting to set up their own business in Community or Product Marketing.